Why ToWork On Your Car Exhaust System?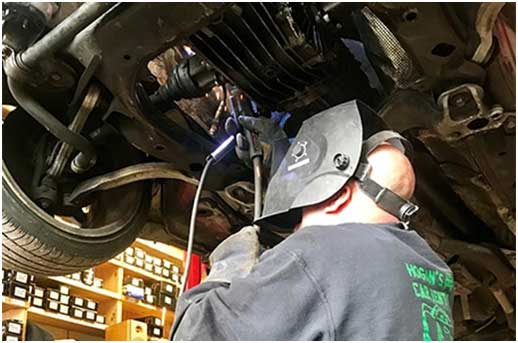 Since you have spent through your nose for your beautiful and luxurious car, make sure that you do not overlook its maintenance. Indeed, no matter how amazing a car is, if you are not keeping good care of it; it can get out of order in no time.
Once you pay much attention to proper servicing, timely Engine repair and rebuild, regular repairs and so on; you ensure that your car works in the flawless manner and without any issues.Now, you know there are different perks of installing a new custom exhaust system including proper custom mufflers.
Moreover, if you own a high performance car, your auto Arizona mechanic will tell you that the OEM factory exhaust system can limit airflow, limiting the performance that made you pick your beloved car in the first place.
Talk to an Auto Mechanic
An experienced and skilled auto mechanic can recommend the best custom exhaust system, full of custom mufflers to increase the torque, horsepower, and throaty growl of your vehicle. A custom exhaust system allows your car to work and breathe better so to speak. It generates a more effective pathway for exhaust gases to exit your exhaust system. In turn, this allows your engine to take in better air. This all ends up in more horsepower and torque. An experienced and skilled mechanic can install custom mufflers along with a custom exhaust system that can boost your vehicle's performance by up to fifteen horsepower.
Apart from this, if you buy an entire custom exhaust package, that has custom mufflers and headers it is going to include everything necessary to generate the greatest increase in performance. Both the appearance of your new exhaust and the more energetic rumble will make your car stand out as anextremely high end, high performance vehicle. If you are not presently able to purchase a full custom exhaust package you can have the work done a little at a time, like having your car exhaust tips or your catalytic converter replaced and then continue customizing as per your need.
You Save Money
Indeed, the pricing of a custom exhaust system can be counterbalance by the savings achieved when a car is performing or running at peak efficiency. The most efficient use of air in and air out will offer the least resistance resulting in maximum efficiency, better gas mileage and provide future savings in spark plugs, sensors and even more. Moreover, getting more air in and out is the least pricy way to maximize the performance of your car.
Similarly, one more savings you will reap from installing a brand new exhaust system is that it will likely be the last exhaust system your car is ever going to need. Custom exhaust systems are actually stainless steel, so they will not rust out. You must know that in older cars exhaust systems appear to rust out every year.
Conclusion
The bottom line is clear, if you pay attention to your engine and overall working of car, it helps you with best comfort and ease. You should go for exhaust system repair if you spot anything wrong with your exhaust system.